About Wendy
The story behind Little Trophy® and its incredible prints on luxurious silks…
"Perfectionism and a drive to make each and every design even more beautiful. Pure luxury, not just for my customers, but also for the people working for my label." Wendy Huijs, founder Little Trophy®.
Tell us more about Wendy Huijs
Wendy Huijs-Van den Ham was born and raised in a small countryside town in the Netherlands. Her family's business was where she started her career. She finished the Art Academy of Maastricht, Wendy blossomed into the tailor, trend forecaster and print designer she is today. A true perfectionist and driven to make each and every design even better and more beautiful - not just for her customers, but also for the people working for her label. With Little Trophy®, Wendy wishes to make a difference in a world of high-end luxury brands. "PURE luxury," as Wendy says, that is something people are increasingly asking for. The story behind the product. And there is even more to this designer than just her expertise in the field of textiles, she is also an entrepreneur like no other. Her identity and expertise are woven into the very fabric of the Little Trophy® concept.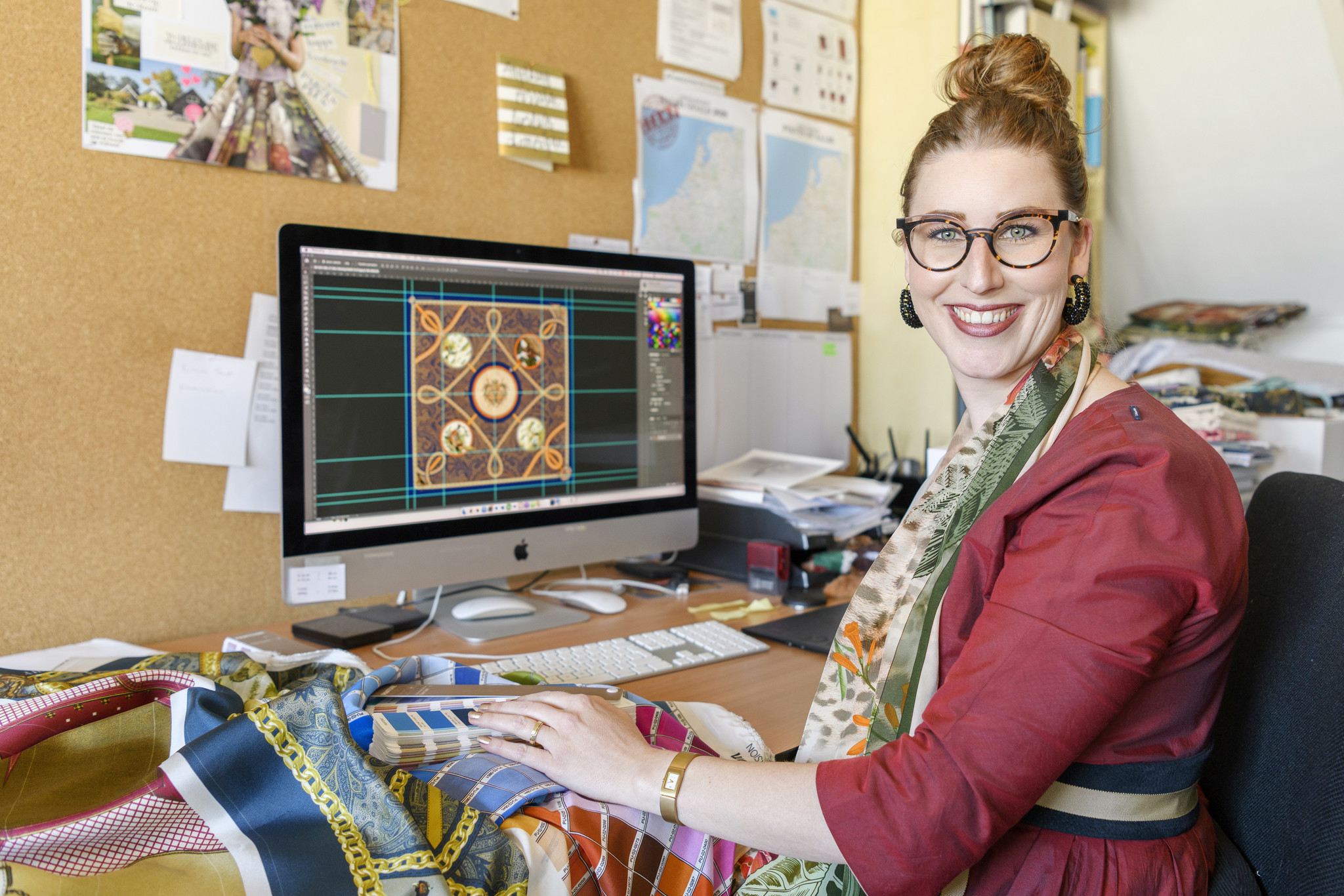 How did you come up with the name Little Trophy®?
It must have been about 15 years ago when I came to the realisation that there is always someone who has to pay the price for the clothes that I wear. From that point on, 'fast fashion', often from low-wage countries, disappeared from my wardrobe. I opted, instead, to buy beautiful pieces, and while they were more expensive, they were manufactured fairly and were of a superior quality. I knew, without a doubt, that I wanted to design a fair product, and thereby make a small difference in the grand world of glitz and glamour. In this process I also thought about my journey thus far, with all its ups and downs, its success stories and hiccups, bringing me to where I am today. I wanted to create a trophy to wear…or to give as a gift. Something unique and valuable, created with great eye for detail and quality. Something to bring with you, wherever you go. A precious gift for someone who has been through a lot or to celebrate a special event, such as an anniversary or graduation. Or for yourself to wear on a special day, as many mothers will be able to tell you, as they walk their son or daughter down the aisle wearing their Little Trophy®. A gift like this is meant for special occasions. And through its print, every shawl tells its own story, as well. That is how my concept got its name Little Trophy®.

Walk us through your process
As a designer I am always on the lookout for stunning combinations for my clients. And it is not just high quality that is important, I want to know all about a piece's background, as well. I never stop asking questions when I visit manufacturers. "Where does the fabric come from?", "Have any chemical agents been used?"
I find my inspiration for new collections at the big fashion shows and design fairs, where you find the latest trends in the world of fashion. The next step is to create a moodboard, which allows me to visualise the feel of each story. The story is always the foundation of each collection. In the meantime I start the design process. Creating a print is always the greatest challenge. I source my inspiration from the world around me. I draw and take photos. At times I use vintage fabrics to work into my designs. While my shawls are timeless, I always make sure that each print says something about the times we live in.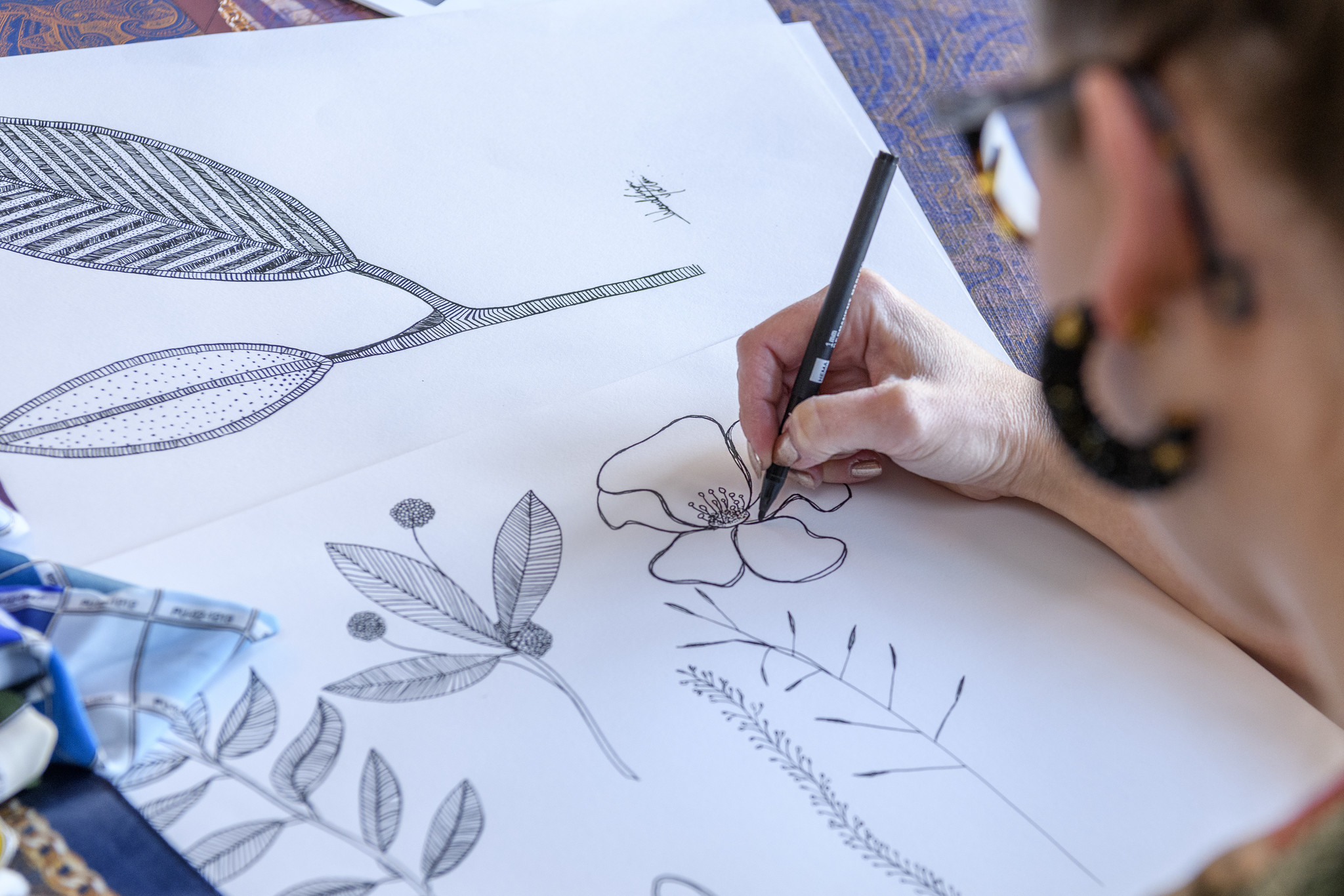 When did you start?
Started…well, it can be better described as a process, rather than having started on a specific date. The official foundation of the label was October 9th, 2017, but the ideas had already been flowing for a year. Without really realising, I had been designing an entire collection in my free time, with the dining room table overflowing with fabric samples time and time again. And whenever people came over, I could not stop myself from proudly showing them my work and they were simply amazed. While they often asked me whether I would be selling my pieces, it would still take a while before I was convinced. This was partly due to the process, as I was still creating all my shawls by hand. As a result, each shawl took a very long time to make. In the meantime I have found a number of great manufacturers and tailoring workshops to help me.

Why did you choose to design shawls?
As shawls are worn so close to the skin, both the colour and material of a piece are very important.
You can wear a shawl to veil yourself, but it can also be worn as a decorative accessory. It can dress up and dress down any outfit. You can wear a shawl around your neck, but also in your hair, in your shoes or as a belt. My most important reason to start designing shawls? Shawls are one of those items that people hardly ever throw out, which makes designing a shawl so incredibly rewarding. A dress may have gone out of style, but with the simple addition of a great shawl your outfit is styled to perfection.

What makes your shawls stand out?
The designs of Little Trophy® shawls are unique, they are designed in our very own studio. We use high-quality fabrics for our shawls, made of Cashmere, silks and wools. Almost all our scarves are produced in Europe, some of our shawls even entirely in the Netherlands. This includes the shawls' packaging. And should we want to start working with other countries, then we will of course thoroughly research all aspects of the process. Fair wages, a high-quality product and, naturally, no child labour, that is our assurance to ensure that you can proudly wear your Little Trophy® shawl.

How do you see your shawls? As a unique design, a high-end accessory or a personal piece of art?
We design high-end fashion accessories, meant to be lovingly worn for years to come. Wear your Little Trophy® yourself, give it as a special gift, twist and knot it, save it or frame it. It is up to client whether she wants to wear it as a piece of wearable art or as a fashion statement.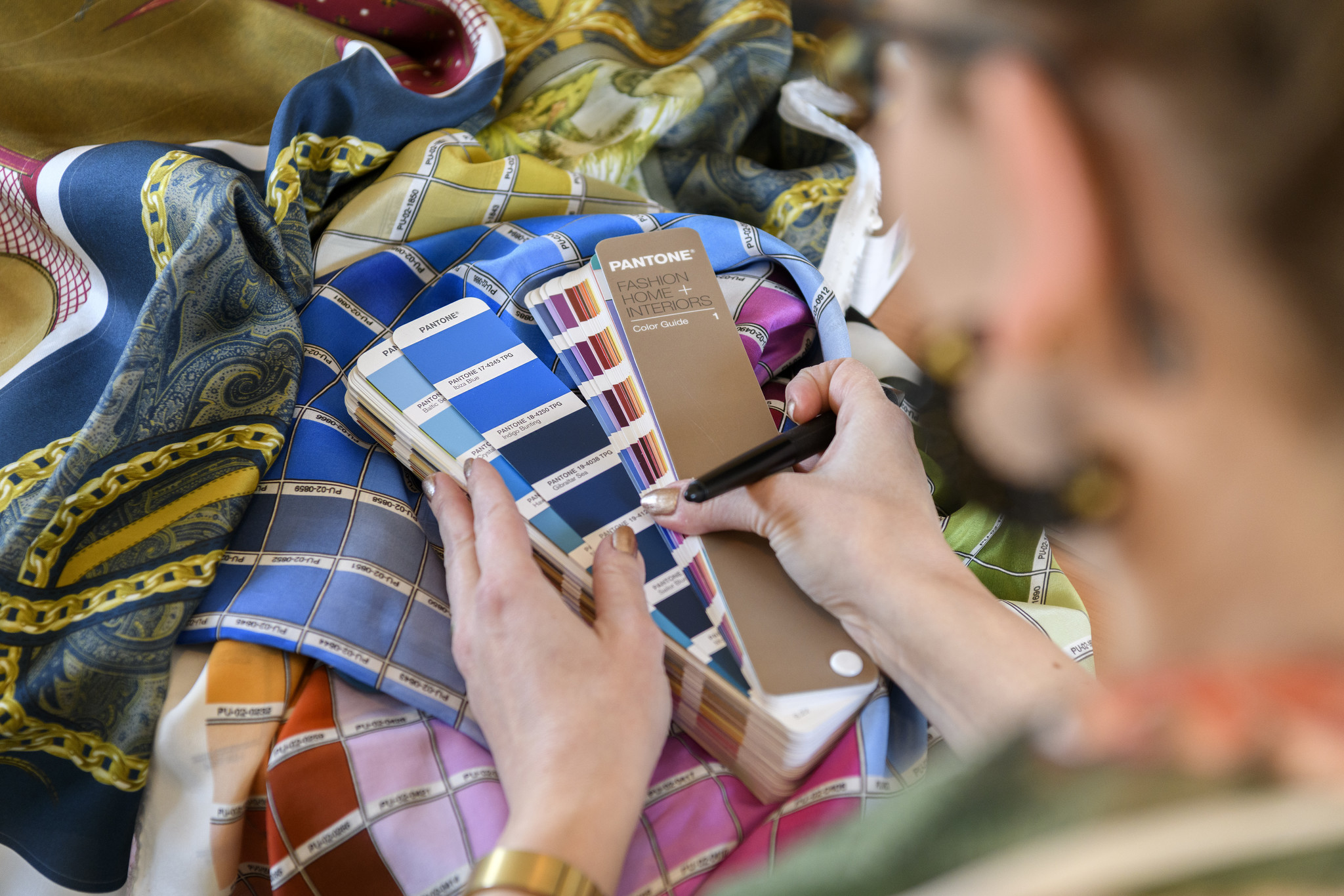 What is the Little Trophy® target audience?
Independent, inspiring and elegant (business) women are our main focus. Our clients are successful and confident, often over the age of 35, who value luxury and high quality. They travel a lot and are passionate about the arts and culture. Our clients love to try on their selection of shawls while enjoying a cup of good coffee or a glass of Prosecco. They appreciate the personal contact and service we offer. A woman who knows what she wants and who is not easily persuaded. She values the real story behind her Little Trophy® design.
That is why we are always there for our clients, ensuring them of sound advice.

What does the future hold for Little Trophy®?
We are a web shop, but, as our clients highly value service and personal attention, we would love to welcome physical points of sale both in the Benelux countries and abroad. Our international clients have the option of placing an online order through our web shop. As we now offer worldwide shipping, it is now possible for, for example, Expats to quickly and easily order a beautiful Dutch item.